We currently have a spectrum ST4's i/o port to the SYNC port on RED Camera for sale in our store. We are sure it works well with DSMC2 bodies, but have had a report that DSMC1 cameras aren't working. We believe RED did change their triggering protocol between DSCM1 and DSCM2.


To use it:

Configure your RED Brain's GPIO port as shown in the pictures. Watch out, it seems like the GPIO modes are not sticky in all cases with RED, so check this setting on power up and mode changes if you are having trouble.


On the spectrum ST4, go to Settings, select I/O Port: RED Trigger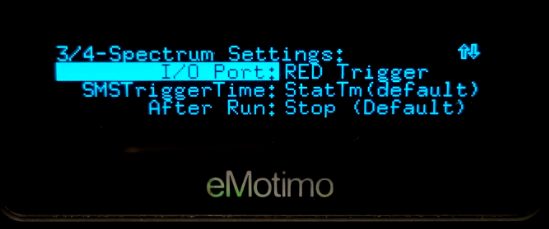 Now for all single pass video shots, the spectrum will trigger your RED camera to start at the beginning of the run and stop at the end of the move.
**Future versions will make this trigger programmable to allow for preroll, or to start / end in the middle of the shot if you only want the motion. Why do we care? For those shooting 56billion K files, shooting only what you want saves a lot of time during transfers and edit. If you are taking 15 passes, this adds up to over 1.21 JigaBytes.
For timelapse:
During SMS timelapse mode with the spectrum, the spectrum will trigger a Frame just like any other DSLR camera. You must make sure your RED's recording mode is Frame Recording. I suggest you set 0 Preroll and PostRoll frames.